A (slightly bespoke) Midi SP review.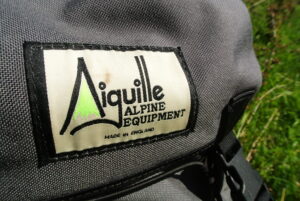 "I had been on the lookout for a rucsac for a while and I found an ideal company in Aiguille Alpine Equipment. They make hard wearing rucsacs in the heart of the Lake District.
The rucsac I wanted needed to be versatile. I use one for hiking in the Brecon Beacons and Scotland, walking coastal paths, wildlife watching, going to local nature reserves and food shopping. As I use a rucsac most days of the week, I wanted something hard wearing. Too many rucsacs I have had have worn out sooner than I would have liked. The Midi rucsac was custom made for me and I have now been using it for a year.
The rucsac has one main pocket, a laptop sleeve, two side pockets, bungee cord on the front and a zipped pocket under the lid. The size is probably between 35-40l. My back length is 55cm. The main colour is grey with black side pockets and a reinforced base. I wanted a subdued colour for the pack as I do a fair bit of bird watching and I don't want to stand out too much. The construction is solid and I am confident that this pack will last a very long time.
The fit is exceptional and what I immediately noticed is that it is such a balanced snug backpack. I have never had a back system feel so comfortable and I have had many rucsacs in my lifetime. The Karrimor Hot Ice was one of my early rucsacs! Going back to my old rucsac, which I now only use occasionally for cycling, is interesting, as I feel it pulling me slightly backwards.
The pad in the Midi that provides structure to the back system is relatively thin so I do need to be a little bit careful not to put oddly shaped objects to close to the back of the pack. Logs to be whittled into spoons are a common culprit! To be honest, you should be carefully considering where you pack any things in any rucsac, so this is not a new consideration.
When heavily loaded the pack is still very comfortable and the weight is not noticeably pressing on the shoulders. This is helped by the waist belt and chest strap. When lightly loaded, with very little inside, the pack holds its form where other packs do not.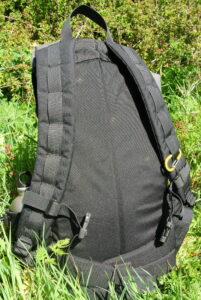 The back system could be described as simple (this a big positive for me!), as there is no fancy air cooling mesh or channels. It works perfectly and I haven't needed these fancy functions to keep cool for the walking I have done in the UK and on the Continent. Perhaps in the very hottest locations this might bother you but I doubt it will ever bother me.
A slight niggle I have concerns the hipbelt. It does serve its main purpose very well, with the pack sitting perfectly on my hips and pack weight evenly distributed on my hips. The hip belt webbing itself is very long for my 32 inch waist and so I have tied the loose webbing ends into a couple of knots. This is messy. If there was some way I could easily shorten or neaten up the knots myself I would love to know please. At the moment the webbing ends are sewn so I am a little reluctant to start chopping things up. This is feedback we have had from a few of our customers now, the reason we make the waist belts long is so that they fit larger and smaller size people! If you know you will not need the extra length on a waist belt, feel free to ask us to make them shorter. On our mid size and larger sacks we have now started adding a plastic keeper loop to allow you to tuck the extra belt webbing away if not needed.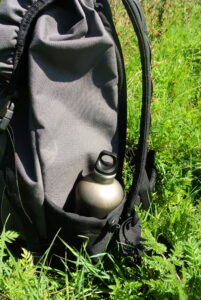 I asked for pockets to be attached to the pack sides. These hold water bottles which I like to access while on the go. I used to use water bladders but I found them such a faff that I went back to water bottles a long time ago. As I am a keen walker rather than a climber I am also not too concerned with the possibility of bottles falling out. The pockets are cavernous and can easily hold 1litre bottles which is what I usually carry. They are also great for holding food foraged from hedgerows and any tinder I collect for my wood stove. The tightening cordlock around the top of the pocket comes in very useful when they are used for this purpose. If they were 1-2cm shorter or maybe slanted I think that they could be perfect as at the moment they are a little tricky to reach back and grab bottles out.
I wasn't sure about getting the internal laptop sleeve, but I am very glad I did. I have used the pack for overnight work trips with laptop included. The sleeve can also hold my journal, maps and my flattened wood stove when out walking.
Finally the bungee cord on the front of the pack has been great for holding a waterproof top or discarded kids wet clothing. I have also been able use it to fashion walking pole attachments. In general the bungee has been useful feature, but not one that has been essential.
Finally I am very glad to be able to support a company that designs and makes great products in the UK.
Full disclosure…Aiguille Alpine did not ask me to review their product. I have been so happy with the product that I felt a company like this deserves to be known for quality workmanship.
Thanks,
Rich"
Richard Shortridge
Thanks very much for the review Rich!