A Lake District Horseshoe…The best one, in our opinion.
Not the Fairfield, Coledale, or even the mighty Kentmere…this Horsehoe is bigger, better and, in its entirety, not so well travelled. The Mosedale Horseshoe.
Brief outline:
Starting from and returning to Cockley Beck, walk up Mosedale and into Great Moss. From here, up to Mickledore and on to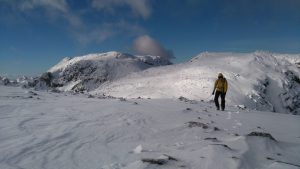 Scafell Pike. Follow the ridge along over Broad crag and Ill Crag and (after a quick dash up Great End) down to Esk Hause. Going up and over Esk Pike leads you on to Bow Fell. Head down from here to Three Tarns and then up again onto Crinkle Crags. From here you start to head down and right to (not so) Little stand, which stands high and proud above Mosedale. Pick your way down the steep slopes and back to your car. Call in at the Three Shire Stones Pub for a well earned drink on your way home.
Time:
Taking in 5 of the classic Wainwright fells, including Scafell Pike as well as countless other subsidiary peaks and tops, it is a BIG day out, even for a fit and experienced walker. 8 hrs.
When to do it: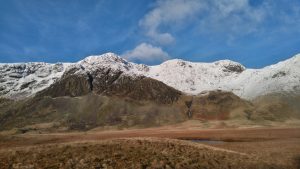 Obviously as it can be a long and tiring day so the best time of year would be midsummer, giving you loads of daylight and mild weather. However, the Lakes are never quite as stunning as when they have their Winter coat on and a horseshoe of the high summits like this is simply majestic in the depths of Winter.
Be Prepared:
As with any day in the mountains preparation is key. Make sure you have the right kit and clothing, have checked the weather forecast, and are experienced enough to look after yourself in the conditions and environment.
How to…: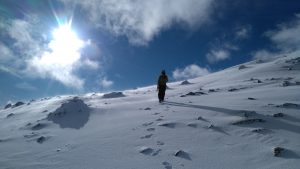 If this information alone is enough to inspire you to go and safely have a go at this stunning walk then go and enjoy!
If you think that for you to safely go into the mountains on a day like this you need some more help, kit, advice or information then STOP!
Here at Aiguille, we stock a wide range of outdoor equipment from maps and hats to what we are best known for, rucksacks. Please feel free to call in and ask us for any more info or advice on this or other walks in the Lakes.
If you are unsure as to if you have the appropriate skills and experience to go and enjoy this walk safely then consider taking a course with a highly skilled and qualified expert.
For a great up to date and accurate weather forecast go to lakedistrictweatherline.co.uk.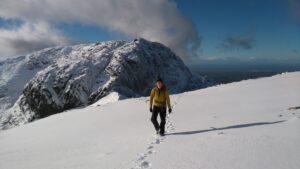 The Fell Top assessors from lakedistrictweatherline.co.uk also run Winter skills courses. Or you could employ the services of a professional Guide such as chrisensoll.com for either instruction or even guiding for the whole route.
At Aiguille we are great believers in "Great adventures" and in our opinion this is probably one of the finest days out you can have on the Lake District Fells, although perhaps not technically a "true" horseshoe. But hey….who cares! What we can guarantee, is that this adventure will be a memorable one!