"The Lord of The Rings"…the words bring up many thoughts and ideas as well as (for a lakes based climber) the thought of one of the best routes in the Lake District (certainly the longest!). 14 pitches of brilliantly varied climbing from E2 5c to 4c, traversing the entirety of Scafell's East Buttress.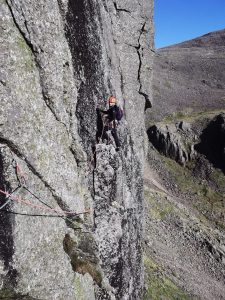 We (Adrian and Chris) decided to do this climb last Sunday (the 2nd weekend in October). Realising the length of the route, combined with its difficult route finding nature and the possible temperatures at this time of year, we decided that we would need to carry with us some food and warm clothing.
We opted for each carrying a small sack containing trainers, a bottle of water, a bit of food, a head torch and a couple of extra layers, rather than one large sack for the second, especially due to the traversing nature of the route, meaning that the second is in essence 'leading'. We grabbed two small light sacks we had available which were a Runout and an El Nino.
After an atrociously early alarm, a big mug of tea (which is mandatory) and a long drive into Wasdale, we set off up towards Mickledore. We were both carrying Zephyr's – our usual climbing sack of choice. As well as the ropes, rack, harnesses etc. we had our small sacks packed inside them. Upon reaching the bottom of Lords Rake (the bottom of our descent path) we left our Zephyrs and kitted up. We wore harnesses and helmets and most of our layers (as it was still before sunrise). Our sacks were packed with food, water and the rack. Neither were stuffed full at this stage as we carried the ropes separately. On the Runout it is possible to easily attach it to the top using the daisy chains, on the El Nino this is not so easy, and so Adrian opted to tie the rope on to his back next to the rucksack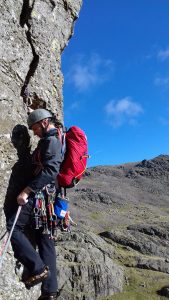 Once at the bottom of the route with ropes uncoiled and racked up our sacks were fairly light (though filled out with belay jackets). Whilst climbing the Runout really stands out. It is barely noticeable, with its webbing shoulder straps and undercut base, making accessing the back of your harness and chalk bag very easy. The El Nino is slightly lower cut on the back, but by clipping the waist belt out of the way and tightening up the shoulder straps you can bring it up high enough to not obstruct your chalk bag. Because we were each carrying a bag, their weight was very negligible (>5kg), whereas if the second had to carry double this in one bag it would have a big impact on their climbing. Both bags have strong point grab loops so that you can easily and safely clip them off at belays (that said we rarely bothered as the sack weighs so little and is hardly noticeable) .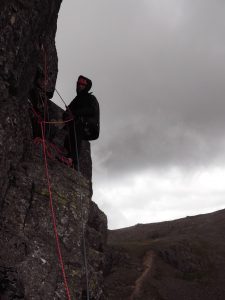 After a fantastic climb (it does need more traffic though so go do it!!) we summited out on the top of Scafell just after dark. Here we put everything except our helmets into or on the sacks. Here the Runout only just managed to hold rock boots, chalk bag, harness, rack, belay jacket, fleece, water bottle, hat, gloves etc. in its 20ltr capacity. The rope as before was attached on top. Coming down lords rake, the runout was slightly uncomfortable, with no hip belt or chest strap and webbing shoulder straps slightly cutting in. The El Nino on the other hand with the slightly larger capacity, coped better, and is also far more comfortable having padded shoulder straps and waist and chest straps.
Back down at our big sacks, everything was quickly packed into our Zephyrs and we descended to wasdale. Very happy with a days cragging in October on England's finest crag.
Some notes on the climb. We definitely didn't do the fastest ascent, in fact it took us nearly 12 hours for 14 pitches. As we are both fairly competent and confident at the grade this did surprise us slightly. There are probably a few reasons for this.
It's Scafell! Grades are hard, ground is steep. Don't underestimate it!
 The route is notoriously a bit tricky on route finding. This isn't helped by the fact that the description in the current FFRC select guide is quite poor. It might be worth seeking out a better description or a diagram (in a definitive Scafell guide).
The route is quite dirty in places, especially on a couple of the down climbs on slabs. As this increases the potential for a foot to pop off extra care (and thus time) is needed to adequately protect the second.
A few of the belays are poor – Good stance but awkward or poor gear, or good gear but poor/non existent stance. This isn't the case for most belays but for the few which are like this it takes much longer to set up belay.
One of the 5b pitches (I won't tell you which one!) is probably 5c and quite tricky, both to climb and protect (take a skyhook).
It was quite cold and wet in places – well…it was October!!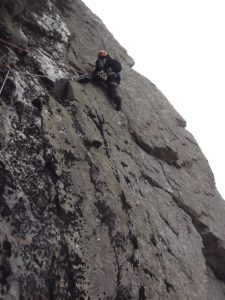 Overall.
Its an awesome adventurous route…please go and climb it!
We find that climbing with these small sacks is really easy. In particular the Runout with its radical shaping.
Walking down from the route carrying everything in the sacks is perfectly possible, even on a big crag and descent like on Scafell, however the El Nino is more suited to this and if you had to go for hours the Runout does become fairly uncomfy with a heavy load.
Packing the small sacks inside our larger climbing sacks for the walk in/out is much easier than having to cope with them fully packed all the way up and down from the valley. The extra 550g-700g is not really noticeable.
A big cup of tea in the morning turns you into a superhero and helps you have an epic day out!