For Portaledge sales and Product specifications see our Big Wall Range.

Portaledges. – Back In the 1990's Aiguille made a whole range of Big Wall Gear including portaledges. These were built around our core design ethics, of being simple, effective and durable. They were based around a simple six pole, six point suspension system typical of that era and similar in many ways to what most other manufacturers were producing. The ledges worked well and were sold in the UK but most were sold into Scandinavia. In the end, the exchange rate brought the Scandinavian business to an almost total halt and, with very little UK interest in Big Wall climbing in the late 1990's, production ceased. After all we were busy enough making rucksacks!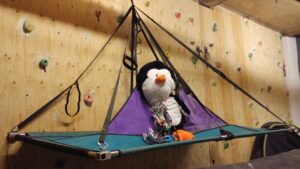 At the start of 2017 we decided to re-launch our Big Wall Range. This came about due to a number of reasons including an apparent resurgence of interest in Big Walling, a frustration from UK or European customers struggling to get hold of predominantly American based products and also a personal interest in Big Walling and a need for some gear!
So in terms of portaledges, the first thing we did was wheel out one of our old ledges from the early 90's. Taking a fresh look at something that was made over 25 years ago is always interesting, after all this ledge was older than me! The other thing to do, of course, was look around at other manufacturers' ledges and it was clear that many improvements and innovations have been made by lots of people over the years.  There can be no doubt that the products now on the market are far more sorted than the early portaledges. The overall desire at Aiguille is always 'can we do better?'. Looking at it critically we could see some issues and so…we set about trying to resolve them!
In our opinion, there are three main issues with the standard portaledge design today. Firstly edge wear. The inside (wall edge) of a portaledge takes the full brunt of the wear every time it is set up. Rubbing against rough rock this can soon becomes an issue. Sure you can reinforce it but it will still wear out and the normal solution (as with most things big wall) is duct tape. This is fine if you only ever want to do one or two Big Walls or you're a sponsored climber or super rich. But for those among us who want a ledge to last a lot longer and be a product that could do numerous walls or trips, we felt that we wanted to come up with a better solution. Secondly, the issue of hour-glassing and twisting. Hour-glassing is where the two central straps of the six point suspension are pulled together by the weight. If you remove the central straps the ledge no-longer hour-glasses but simply bends in the middle at an alarming rate – with the potential to break. There are various spreader bar arrangements which are used to overcome this but they bring with them their own set of problems; they can be hard to get in, particularly when free hanging on a wall and can pop out if the ledge twists (many people just simply leave them at home). Lastly, is the issue of portaledge flysheets. They want to be lightweight, waterproof, ventilated and well fitted to the ledge. Most manufacturers have managed some or all of these to some extent yet we were hoping to try and do a good job of all these things!
Our Solutions! – Through a lot of designing, head scratching, testing and modifying (which culminated in a month in Yosemite hanging off El Cap on our ledges) we finally feel like we have a finished product that we are happy with! So whats different about our portaledge?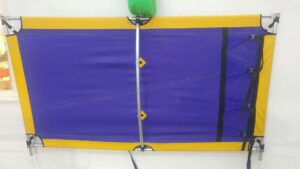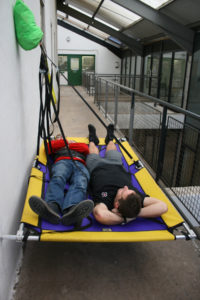 The "Suspension" bar. – Not to be confused with a conventional spreader bar, the suspension bar is a fixed bar and is what the ledge is suspended from on the wall. Into this slot the four edge tubes and on to these, the end tubes. By doing this the whole dynamics of the ledge have been changed. The weight on the ledge is taken primarily by the suspension bar. This eliminates both twisting and also hour-glassing almost completely as the central points of the ledge cannot push together. It also removes the spreader bar and the issues associated with it. All other ledges currently in production are in effect supported by the four corners, the two central straps then serve to stop the edge tubes bending and in doing so create hour-glassing. By utilizing our "Suspension" bar the four corner points now in effect act as stabilizers for the ledge as opposed to hang points.
The "Legs". – These legs are simply a slight extension of the end bars which protrude out of the corner blocks and push against the wall when the ledge is loaded. This pushes the ledge off the wall and eliminates any wear on the ledge edge as well as having the added advantage of giving water runoff during a storm a gap to flow through! We have also utilized these to attach the flysheet resulting in a substantially more stable fit, particularly in strong updrafts.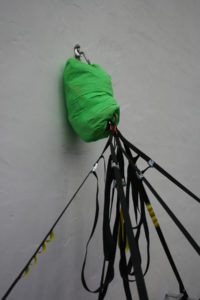 The "Flysheet". – Even back in the 90's we had a system that allowed the flysheet to be hung in a bag above the ledge ready to deploy, so not much has changed here. We have, however, improved the attachment thanks to our "legs" which ensure that no wear occurs on the wall side of the fly. This development, together with hot air taping all seams (a radical improvement from a tube of seam sealant), ensures the fly is fully weatherproof. We have also introduced a "chimney" which together with the large ventilation panel creates a through flow of air right in the top of the fly where all the condensation normally forms.
The combined Portaledge, fly, tent pole, and haul bag weighs in at 9.84kg (21.7 lbs) – Weight to be confirmed in product specification.
Chris Moore – Aiguille Gear tester (who wishes it could be a full-time job!!)