Climber: Craig Matheson
Aiguille has always been and remains today a relatively small scale Manufacturing Business. As such we have never been in a position to offer huge amounts of support to climbers/mountaineers/paddlers (adventure enthusiasts). We have been approached by many people and over the years we have helped out lots of individuals with specific bits of kit or discounts on kit for trips which we feel are unique, adventurous and interesting! However, as we find that lots of people who buy products from us are buying it for a specific trip or end use, we are obviously unable to support them all! Often our support is shown in other ways such as making bespoke items for people which they may not be able to get made anywhere else.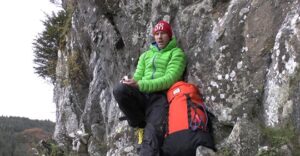 Recently we were approached by Craig Matheson a well renowned Lake District based climber, asking if we would be willing to supply him with a few bags etc. Craig is one of a minority of climbers climbing in the very top grades of British traditional climbing. He is one of even fewer who does this whilst raising a young family and having a non-climbing related full time job. Born and bred in the Lake District, Craig embodies the values and traditions of British trad in a way which we feel few others are doing. Hard, cold and lonely days spent hanging on a rope on high Lakeland crags have enabled Craig to tot up an impressive list of ascents including "Another Lonely Day" E8 6c, "Welcome to the Cruel World" E9 7a, "If 6 was 9" E9 6c and "Now't but a Fleein' Thing" E8 6c to name but a few.
Craig works very hard to be able to do all this. See his blog for an insight to his training etc. As some of us here at Aiguille are Lakes based trad climbers, we are happy to to be able to support Craig in his climbing and feel that his grade should increase very rapidly now he is using an Aiguille Chalk bag!
Here's some questions we asked Craig (just to make sure he was a true trad climber):
What makes Trad climbing (particularly in the Lakes) so unique/rewarding?
The Lakes is one of those mountainous areas that sits squarely in the 'day out' sweet spot. If the peaks were a little bigger and the approaches that bit further, then you rapidly hit the limit of what can be achieved in a day. The Lakes provides the opportunity to walk up in daylight, have a full days climbing but still get back to the pub before last orders. So in many respects, the rewarding part of climbing in the Lakes is that it presents sufficient physical and mental challenge to have 'appeal' to the trad climber. It's a different day out on grit, or on a sea cliff. In all cases you get to climb, but the challenges presented by the climbing day are very different. I think if you're into trad, the mountain environment is ultimately more soulful – at least in my opinion.
If we add in the fact that the Lakes has a huge number of crags, at a range of altitudes, facing all directions on the compass (evening crags, morning crags etc) on rock, which is largely the best in the country, you struggle to find a better day out.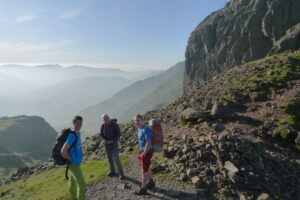 What are some of the main challenges of being an active Trad Climber in the Lake District?
The principle challenge is always weather and you can't do anything about this. Admittingly it does rain an awful lot! The next issue is motivation. When the weather is dry you have to be motivated to actually make the walk to the crag! Sounds simple, but you don't see too many people on Scafell these days.
For most people having to juggle work, family and the usual life pressures, there is always the temptation to go for an 'easy' option rather than the long walk to a high mountain crag. We are all guilty of reading the guide in the comfort of our own homes and thinking about doing route X or Y, but then when it comes to actually packing the rucksack and physically going – this can be something else. You need a lot of motivation to survive in the Lakes – it's not convenience climbing, you've got to be committed.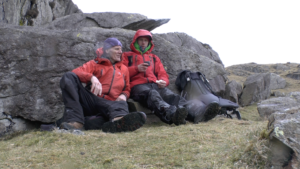 If you could recommend one lakes route at Severe, HVS, E2, E5 and E8+ what would they be?
There's certainly a lot to choose from, so I've excluded anything from Hard Rock or Extreme Rock, as these are already well known.
Severe
Thomas, Wallowbarrow
One of my early leads at the grade. Sunny aspect, multi-pitch and of course 'that hold'.
HVS 
The Golden Slipper, Pavey Ark
Climbing on the rough pocketed rock of Pavey is an absolute joy. I still remember the first time I climbed the 2nd pitch of the Golden Slipper about 25 years ago, not only was it a great pitch from a climbing perspective, but it was the feel of the rock that has stayed with me all this time.
E2 
Isengard/Samba Pa Ti
Probably the most frightening belaying experience I've ever had! Having led up Isengard and belayed in the cave, my Italian climbing partner commenced the Samba Pa Ti pitch. Things got a little wobbly and being out of practice placing gear, he didn't find anything until after the steep section of the route. I spent most of the harrowing lead trying to place more wires at the belay!
E5 
Buster Gonad, Viz Crag
Not the best E5 by a long way, but the clue is in the name. It's in my list because it's a reminder of how hard Lakeland E5's can be and if you're ticking your way through the 'Alphs' this is the toughest challenge. The route has a very tough move in the lower section and is run out enough above this to keep your mind firmly focused.
If you're not familiar with the 'Alph's' ticklist, these are 5 x E5's done by Al Phizacklea in the Duddon.
Burning Desire (Burnt Crag)
The School of Hard Knocks (Great Blake Rigg)
Rough Diamond (Foss How)
Machiavellian Paragon (Far Hill Crag)
Buster Gonad (Viz Crag)
E8 
Now't But A Fleein' Thing, Cam Crag, Wasdale
There are few features in the Lakes as impressive as Cam Crag. When you walk into the crag (provided you go the correct way) you don't actually set eyes on it until you're a few hundred yards away. The approach is steep and heathery in the final section, so our tired and wondering if you've gone the right way, but suddenly the crag comes into view. For most people, your jaw will drop at this point – as you are confronted by the most hideously overhanding piece of rock in the Lakes. The climbing is inherently steep and typically on unhelpful sloping holds, but the protection is at least good (by E8 standards that is). The hardest climbing is in the first half of the route, but it's the last few moves that could be heart breaking.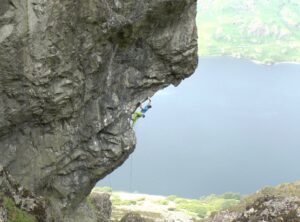 What's the secret to working a full time job with a family and climbing E9?
Unfortunately by accepting that you will be unpopular at home.
Climbing an E9 is the easy bit. It's a few minutes of effort, which in the context of your lifetime is absolutely nothing. The problem comes with managing the rest of your life so that you can attain the performance necessary to climb at this level. The reality is that time management becomes critically important.
If I take the total time that I'm awake in a 1 year period, then work accounts for 43% of this. This leaves 57% that I've got some level of control over. What you need to be able to do is deal with the guilt, hassle, stress and anxiety caused by you trying to maximise that 57% for climbing purposes. Then you need to keep doing it for years whilst you build up the strength, fitness and mental conditioning to climb at that level. So the secret has pretty undesirable consequences for those closest to you, which is why there are so few people climbing E9 who work full time and have families.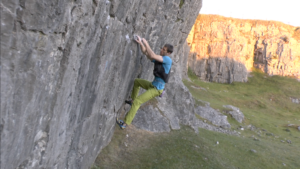 So, with that little insight, we are pleased to announce that Craig is our first "athlete" (whatever that means). We are not on the look out for any more so please don't all apply! However, if you are, or know someone who is doing  something similar to Craig, pushing boundaries in your own sport, not making a huge song and dance of it and vying for sponsors but just doing it for the love of the sport, we would be happy to hear from you and maybe…maybe, we might give you a half-price stuffsack.
Please follow Craig via his blog and social media channels.
BLOG – https://craigmatheson.com/
FACEBOOK – https://www.facebook.com/climbmatheson
INSTAGRAM – https://www.instagram.com/craigmatheson_climber/