Jamie recently bought a new Ecrin rucksack, and set off on an adventure.
Here is how he (and the rucksack) got on!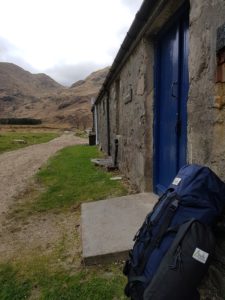 "I completed the Cape Wrath Trail in 8 days this weekend, having chopped off a section between Glenfinnan and Barisdale at the start.
The total distance of around 190 miles through very rough country of Knoydart, Kintail, Torridon and Assynt was as tough a challenge as I could imagine for the Ecrin that arrived with me a day before departure.
Having loaded the sack with tent, sleeping bag and kit for an anticipated 10 days on the trail and with an initial supply of five days food at the start the bag weighed a hefty 18kg, so not a lightweight outing by any measure.
The bag required no adjustment of the harness and fitted beautifully right away. The load sat comfortably and the pack was stable and solid throughout, requiring minimal re-adjustment during the day's activity once everything was cinched up.
I used a set of large side pockets with the bag, primarily in order to assist with organizing gear. Tent in one side pocket, (my Hilleberg Akto just fitted in the one pocket) and my stove, cookpot and food in the other side.
During the journey, I experienced the whole range of weather, rain, snow, hail and strong winds gusting to 70mph with significant wind chill down to -20°C. Whilst I used a sack liner and drybags for my kit, the bag kept everything out, only minimal water ingress during a sketchy river crossing midway through the trip.
The Ecrin has performed beautifully during a tough, long slog, being comfortable and stable to wear, whilst keeping my gear dry and secure.
As well as the sack, the side pockets that I've had for several years continue to deliver, as well as the small waist belt pouch which kept my camera safe and dry throughout was fantastic.
Thanks again for your help, please carry on making first class kit, that delivers in the roughest conditions.
All the best
Jamie"
Thanks for the feedback Jamie. Sounds like a fantastic trip! If you have any you'd like to share with us please do, on Facebook, Twitter or send us an email.