PULK ADVICE
We offer two sizes of HDPE Snowsled pulks which are designed to perform to below -35 degrees C.
The Trail pulk is smaller and the go to size for those undertaking expeditions where the load is generally less than 50kg.
The Expedition pulk is larger and has a greater load carrying capability of up to 100kg.
| | | |
| --- | --- | --- |
| | Trail | Expedition |
| Load | Up to 50kg  | Up to 100kg |
| Internal size (top rim) | 138 X 41cm | 161 X 50cm |
| | | |
| External size | 146cm X 50cm X 19cm height max   | 169.5cm X 60cm X 20cm height max   |
| Weight | 2.3kg | 4.2kg |
| Plastic sheet thickness | 3.0mm | 5.0mm |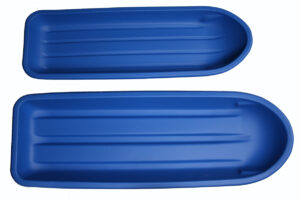 Even if you have a smaller load, you may choose to use a larger Expedition shell for the following reasons;
Allows a lower centre of gravity which equates to greater stability.
'Floats' higher on soft surfaces due to the larger base area.
Rides more smoothly over hard, bumpy surfaces.
Conversely, if your load is too big/heavy for a Trail shell, you might choose to use two Trail shells instead of a larger Expedition shell. (Note: if you are hauling huge loads it is of course possible to haul two Expedition pulks – if considering this we advise either therapy, or at the very least booking some physiotherapy sessions for when you get back!).
The two pulks can be hauled either behind one another (train setup) or in tandem, as appropriate. If man-hauling, the train setup is generally more effective as the one pulk breaks trail for the other, however, if using kites, hauling in tandem is preferable as the rafted pulks create a very stable "Catamaran" style platform which is very hard to flip over. Depending on what you are carrying, the pulks will usually get lighter and emptier throughout the journey as food and fuel are used. It might then be possible to stow/stack one pulk inside the other, greatly reducing the drag (though obviously not as stable for kiting).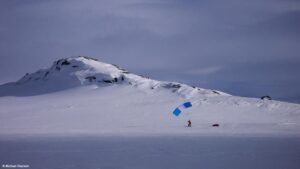 Two smaller sleds may also be an advantage if:
You have to backpack them to your start point – greater 'windage' with a larger sled.
You know you may need to relay your load at some point.
There is a risk of damage – having stony ground to cover at the beginning and/or end of your journey will probably cause deep scratches. This particularly may be a problem at either end of the season. Having two lighter pulks will mean you are more likely to portage (carry the pulks) over these sections. Note: although polyethylene is the best plastic sled material, it will damage just as all laminated gel coats damage. Scratch damage equates to greater friction and, therefore, more effort in hauling – a little harder pulling at each step equates to a significant extra effort by the end of the day and after several weeks.