Ice Axes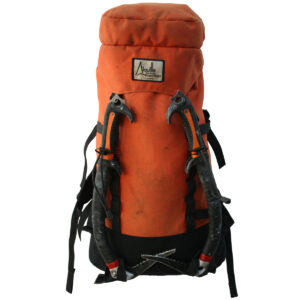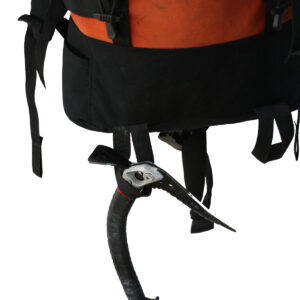 Starting with the conventional way of attaching ice axes, ensure that the picks are facing inwards to avoid catching them on clothing or other people! On our rucksacks we use a traditional style loop at the bottom through which the head of the axe can be threaded (as shown). Then simply pass the handle of the axe through the elastic loop and tighten the drawcord.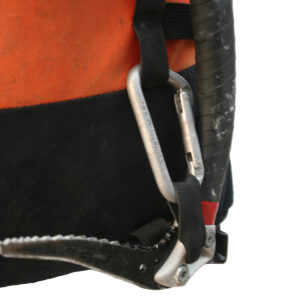 Although many other manufacturers are now opting for a buckle to thread through the eye in the head of the axe, we feel that a loop is still better as some, non technical axes do not have a hole in the top meaning the axe can not be attached..
If using a technical axe with a very small hammer, or no hammer/adze at all, the traditional method of attachment will not work as the axe can slide to one side. In this situation simply thread the ice axe loop through the eye in the head of the axe and clip it back up to the bottom of the daisy chains using a carabiner (as shown).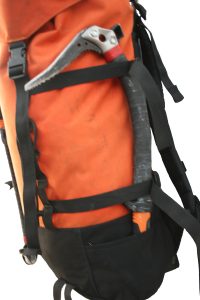 An alternative way of carrying ice axes is to thread them through the side compression straps. This is very straightforward and self-explanatory. The main advantage of this method is that it is possible (with skill, flexibility and luck) to get to the axes out without taking the rucksack off.
Shovels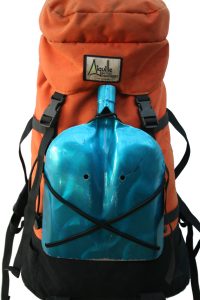 Snow shovels can be stored inside your rucksack, however, they do not always sit well and can take up lots of space. Also, on potential avalanche terrain, the shovel should be quick to get to and packed deep inside your sack is not so easy to access. We attach snow shovels to the front of the sack using shock cord loops tied into the bottom daisy chain loop. The handle of the snow shovel can be stored either down the compression straps or inside the rucksack down one side (it will slide out very easily if needed).
Most shovels have holes in them so if yours are in a slightly different configuration you can alter slightly the way you attach it.
Pass the elastic through the bottom corners then across the shovel and through the daisy chains higher up on the other side. Finally, pass the loop of elastic over the top handle attachment of the shovel.